If you or a loved one have taken (or affected by) Zofran after 1991 please contact us today.
Zofran Linked to Life-Long Birth Defects in Children
A powerful drug initially intended to treat nausea in chemotherapy and post-surgical patients is being marketed to pregnant women as a treatment for morning sickness. This has lead to the life-long birth defects for hundreds of thousands of children across the country.
If you took Zofran during pregnancy and your child developed birth defects as a result, you could be eligible for compensation.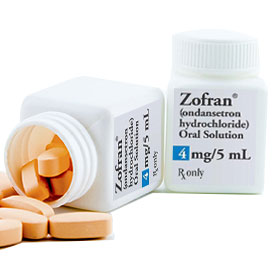 What is Zofran?
Zofran is a powerful drug made by GlaxoSmithKline for the treatment of nausea in chemotherapy and post surgery patients. Zofran was approved in 1991 to treat nausea that often results from chemotherapy treatment. Its use was later expanded to treat morning sickness in pregnant women, though neither Zofran, nor its generic form Ondansetron, was ever approved for this use.
What are the risks?
Zofran was never tested or intended to be used by women who had morning sickness during pregnancy, but, in an effort to capitalize on a larger market than the drug was originally designed to serve, GSK began to encourage doctors to prescribe Zofran to pregnant women to treat nausea.
GSK never warned the women that taking Zofran could result in birth defects. This off-label use of Zofran, was never approved by the FDA.
The result – life-long birth defects for the children and a lifetime of heartache and medical treatment for the parents.
Yes, the FDA let this happen. In fact, Zofran is still on the market today and it is still being prescribed to treat nausea in pregnant women by doctors and hospitals around the country, despite the significant and catastrophic injuries experienced by hundreds of thousands of families. The FDA has issued a weak warning concerning the safety of the drug's use in pregnant women.