If you or a loved one have taken (or affected by) Xarelto after July 2011 please contact us today.
Xarelto Lawsuits Pop Up Due to Dangerous, Uncontrolled Bleeding
New to the growing market of blood thinners, Xarelto has recently come under fire due to reports of serious complications involving uncontrolled bleeding. This drug has been aggressively marketed as an alternative to more traditional blood thinners such as Plavix and Coumadin, resulting in increased market share for Bayer, the makers of Xarelto.
If you are currently taking Xarelto or have taken it in the past, read on to learn more about pending Xarelto lawsuits as well as the potential dangers. You might be entitled to compensation if you or a loved one was harmed while taking Xarelto.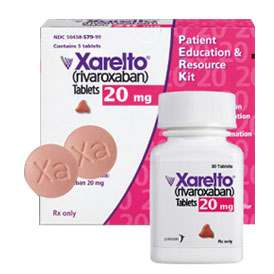 What is Xarelto?
Xarelto is an anticoagulant drug, also known as a blood thinner. It is often given to patients who are at high risk of developing blood clots or to reduce the risks of a heart attack or stroke. Patients diagnosed with atrial fibrillation or who have had hip or knee replacement surgeries are also potential patients for this drug. Xarelto, also marketed under its generic name, Rivaroxaban is a fairly new drug, put on the market in July 2011.
What are the risks?
One of the most dangerous risks to taking Xarelto or any other blood thinner is the possibility of uncontrollable bleeding. Xarelto carries an even greater risk since there is no known antidote if excessive bleeding occurs. The results can be deadly.
Since blood thinners are one of the most marketed drugs out there, Xarelto, made by Bayer and marketed by Johnson & Johnson, has been aggressively marketed to consumers as an alternative to more tested, tried and effective blood thinners like Plavix and Coumadin. Medications such as Plavix and Coumadin require frequent blood testing to monitor patients. Xarelto doesn't have these blood test requirements, making it a more convenient solution for many consumers.
Xarelto has been marketed relentlessly by the drug makers, featuring celebrities praising the drug's virtues. As a result, Johnson & Johnson has gained significant market share in the blood thinning market.