If you or a loved one have taken (or affected by) Pradaxa after October 2010 please contact us today.
Pradaxa Blamed for Uncontrolled / Irreversible Bleeding
Pradaxa was approved by the FDA and introduced to the US market in 2010. Pradaxa has been marketed as a replacement for the more popular blood thinner Warfarin. Just two years after it was introduced, however, Pradaxa was blamed for over 500 deaths due to reports of uncontrollable bleeding and hemorrhaging, sparking many Pradaxa lawsuits.
If you've been harmed while taking Pradaxa, you might be entitled to compensation.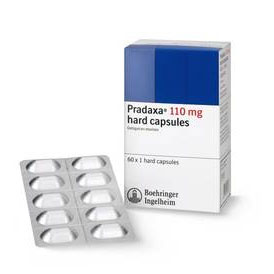 What is Pradaxa?
Pradaxa (dabigatran etexilate mesylate) is an anticoagulant medication used to reduce the risk of stroke in patients with nonvalvular atrial fibrillation. It works to prevent the formation of blood clots by inhibiting the action of thrombin, the body's clotting protein. The drug has also been prescribed to prevent venous thromboembolism (VTE) following hip or knee replacement surgeries.
What are the risks?
The biggest risk when taking Pradaxa involves incidents of uncontrolled bleeding which can lead to death. This risk is greatest in patients who are 75 years of age or older, patients with kidney problems and patients with recent or recurring stomach or intestinal bleeding due to stomach ulcers.
In January 2012, the FDA approved a revised product information label for Pradaxa that warns that at this time there is no specific agent or medication that can reverse bleeding due to Pradaxa and that the body must eliminate it, naturally, by way of the renal system.