If you or a loved one has been affected by Big Rig Trucking please contact us today.
Trucking Accidents
Trucking accidents, which include tractor trailer and semi truck accidents, happen on our nation's roads every day, costing untold millions in damages due to injuries, lost wages and even permanent disabilities and death. Many of these trucking accidents are preventable and could have been avoided if not for the negligence of trucking companies, manufacturers or even the truck drivers themselves.
If you or a loved one has been injured in a trucking accident, you owe it to yourself to seek possible compensation for any injuries you sustained. Helping the Injured can help you decide if you have a case!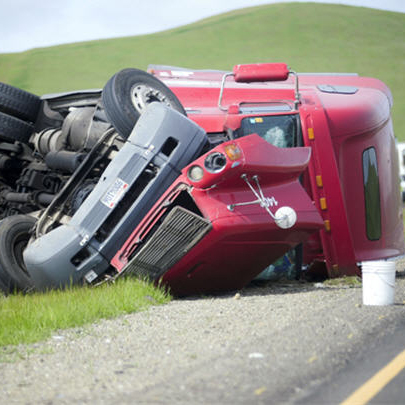 Big Rig Trucking Accident Statistics:
Thousands of trucks are involved in fatal traffic accidents each year.
Hundreds of pedestrians and bicyclists are killed each year in traffic accidents involving trucks.
Tractors pulling one semi trailer are the most common truck configuration, accounting for about 60% of all trucks involved in a fatal accident.
The number of truck drivers killed in traffic accidents increases every year.
Texas, California, and Florida had the greatest number of truck injuries.
The fatal crash rate for semi trucks is 2.6 deaths per 100 million vehicle miles traveled. This staggering statistic is more than 50 percent greater than the rate for all vehicles on the roads.
Tractor trailers and large semi trucks (including 18 wheelers) are also more likely to get into multiple vehicle accidents. Nearly 80 percent of all large semi truck accidents involve more than one vehicle!
Since the late 1970s, 12 to 13 percent of all traffic-related fatal crashes involved a big rig truck.
Fatigue Can Play a Big Role in Semi Truck Accidents
Federal regulations allow drivers of large trucks to drive up to 16 hours a day. However, drivers under the regulations can compile 60 hours in less than five days by alternating ten hours of maximum permitted continuous driving with the minimum eight hours off duty. Surveys reveal that many drivers of big rig trucks violate the regulations on hours of service.
Studies also show that driver fatigue plays a role in big rig wrecks and that drivers are more likely to crash after many long hours of driving. (IIHS)
The Department of Transportation has recently adopted new hours-of-service rules. However, consumer groups and highway safety advocates believe the trucking industry weakened the change to a degree that still will allow fatigued truckers on the road.