If you or a loved one have taken (or affected by) Kombiglyze after 2010 please contact us today.
Kombiglyze Puts Patients at Risk for Heart Failure, Pancreatitis, Lactic Acidosis and Death
Increasing evidence points to the possible risks to patients who are taking the popular medication Kombiglyze to control their Type 2 diabetes. If you or a loved one has been harmed from the use of Kombiglyze, you could be entitled to compensation for your injuries.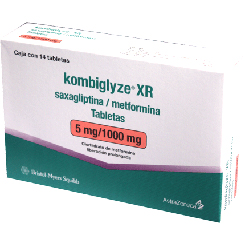 What is Kombiglyze?
Introduced in 2010, Kombiglyze is an extended release oral medication designed to reduce blood sugar levels in patients with Type 2 diabetes. Kombiglyze works by combining the benefits of DPP-4 inhibitor Onglyza with metformin to reduce blood sugar levels by:
Decreasing sugar absorption in the stomach
Reducing sugar produced in the liver
Increasing the amount of insulin produced after eating
Increasing the body's sensitivity to insulin
Proper diet and exercise should be combined with Kombiglyze treatment for best results.
What are the risks?
Kombiglyze has been linked to several serious side effects including heart failure, cardiac arrest, pancreatitis and death.
Because Kombiglyze contains the active ingredient metformin, patients may also be susceptible to lactic acidosis, a serious condition that involves the build up of toxic levels of lactic acid in the blood that can result in death.
What You Can Do Now
If you or a loved one has taken Kombiglyze since 2010, were on the drug for at least 10 days, and suffered any of the serious conditions or complications below, you could be entitled to compensation.
Heart Failure
Extended Hospitalization
Surgery
Congestive Heart Surgery
Cardiac Arrest
Death