If you or a loved one have taken (or affected by) Jardiance after October 2014 please contact us today.
Jardiance & Other SGLT2 Inhibitors Linked to the Development of Ketoacidosis
A growing number of SGLT2 inhibitors used in the treatment of Type 2 diabetes are coming under fire for their role in the development of serious medical complications. Jardiance, like other SGLT2 inhibitors, has been linked to the development of ketoacidosis, a potentially deadly condition. With that, there has been an increase in Jardiance lawsuits around the country.
If you or a loved one has been harmed as a result of taking Jardiance, you might be eligible for compensation for your injuries.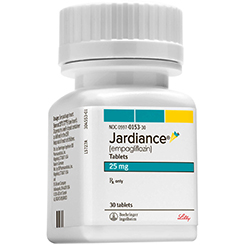 What is Jardiance?
Introduced in September of 2014 and manufactured by Boehringer Ingelheim, Jardiance is classified as an SGLT2 inhibitor and prescribed for the treatment of Type 2 diabetes. The drug works in combination with diet and exercise to help lower blood sugar levels in Type 2 diabetes patients by interrupting glucose reabsorption, while increasing the secretion of glucose in the kidneys. Excess blood sugar is then expelled through the urinary tract.
What are the risks?
The biggest risk for patients taking Jardiance, as well as other SGLT2 inhibitors, is the development of diabetic ketoacidosis, a serious condition that can lead to brain swelling, coma or even death if not promptly treated.
There is also an increased risk of urinary tract infection when taking Jardiance.