If you or a loved one have taken (or affected by) Xigduo XR after October 2014 please contact us today.
Xigduo XR Linked to Diabetic Ketoacidosis, Lactic Acidosis and Possible Kidney Failure
Type 2 diabetes patients have another potential drug to worry about in their fight against diabetes. While Xigduo has been prescribed to many patients to reduce blood sugar levels, it also carries the potential for the development of serious health conditions that can be deadly.
If you have taken or are currently taking Xigduo XR and have developed a serious condition or complications, you may be eligible for compensation.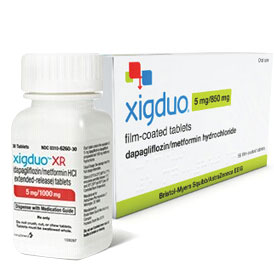 What is Xigduo?
Released in October of 2014, Xigduo is manufactured by AstraZeneca and prescribed, along with diet and exercise, for the treatment of Type 2 diabetes. Made from a combination of dapagliflozin and metformin, Xigduo is very similar to Invokamet, another medication used in the treatment of Type 2 diabetes. Xigduo is the only SGLT2 inhibitor and metformin formulation approved by the FDA that can be prescribed in a single daily dose. Xigduo, like other SGLT2 inhibitors, helps to reduce blood sugar by preventing glucose reabsorption, while increasing glucose release in the kidneys. Excess blood sugar is eliminated through urination.
What are the risks?
Like other SGLT2 inhibitors, Xigduo carries risk factors for the development of diabetic ketoacidosis, a serious condition that can result in swelling of the brain tissue, coma and death. Because Xigduo also contains metformin, patients are also at risk for developing lactic acidosis, a condition in which lactic acid builds to toxic levels in the bloodstream that can result in death.
Dapagliflozin, a main ingredient of Xigduo, was originally denied approval by the FDA in 2012 based on concerns about its effect on the liver.