If you or a loved one have taken (or affected by) Glyxambi after February 2015 please contact us today.
Glyxambi Linked to Pancreatitis and Diabetic Ketoacidosis
Glyxambi, a popular treatment option for patients with Type 2 diabetes could increase the risk of pancreatitis and diabetic ketoacidosis, two potentially deadly conditions.
If you or a loved one is currently taking Glyxambi and have experienced serious side effects as a result, you could be entitled to medical benefits and financial compensation. You may be able to obtain these benefits  by filing a personal injury lawsuit against the manufacturer of Glyxambi. Our dangerous drug injury lawyers have many years experience handling Glyxambi lawsuits.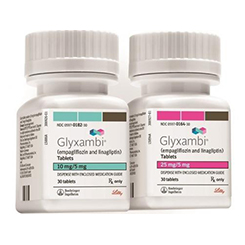 What is Glyxambi?
Manufactured by Boehringer Ingelheim and released in February 2015, Glyxambi is a unique combination of two other Type 2 diabetes medications. It is made up of active ingredients from popular SGLT2 inhibitor, Jardiance and the active ingredient from DPP-4 inhibitor Tradjenta. Glyxambi is prescribed, along with diet and exercise for the treatment of Type 2 diabetes.
What are the risks?
Like all SGLT2 inhibitors, Glyxambi has been linked to an increased risk for the development of diabetic ketoacidosis, a serious condition in which ketones build up in the bloodstream to toxic levels. If not treated promptly, ketoacidosis can lead to swelling of the brain, coma and even death.