If you or a loved one have taken (or affected by) Onglyza after 2009 please contact us today.
Onglyza XR Linked to Heart Failure, Cardiac Arrest, Pancreatitis and Death
Onglyza XR, a popular oral medication used in the treatment of Type 2 diabetes, has been linked to heart failure, cardiac arrest, pancreatitis and death.
If you or a loved one has experienced serious side effects as a result of taking Onglyza XR, you could be entitled to compensation for your injuries. Our mass tort attorneys have a wealth of experience handling Onglyza lawsuits. Let them help you.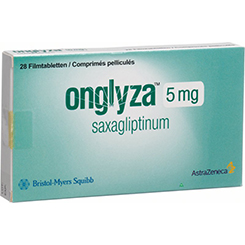 What is Onglyza XR?
Approved for use by the FDA in 2009, Onglyza XR is an oral medication used to treat Type 2 diabetes. The drug is classified as a DPP-4 inhibitor and works by helping the pancreas secrete additional insulin while preventing the liver from making excess sugar. Onglyza has become a popular treatment option for diabetes because of its ability to control blood sugar while not encouraging weight gain like many other diabetes medications. Onglyza, manufactured by AstraZeneca and Bristol-Myers Squibb, is also prescribed under its generic name Saxagliptin.
What are the risks?
Studies have linked Onglyza XR to heart failure, cardiac arrest, pancreatitis and death.
Onglyza's warnings and precautions were updated in November 2011 to include information about risks for pancreatitis, a serious condition involving inflammation of the pancreas that often requires hospitalization. Some cases of pancreatitis result in death.
Onglyza has also been linked to an increased risk for heart failure, according to a study performed in September of 2013. In 2014, the FDA released a drug safety communication about Onglyza XR after the New England Journal of Medicine released a study indicating an increased risk for hospitalization due to heart failure in patients taking Onglyza XR.
What you can do now
If you have or a loved one has taken Onglyza XR since 2009, were on the drug for at least 10 days, and suffered any of the issues below, you could be eligible for compensation for your injuries.
Helping the Injured has been an advocate for consumers for over 25 years, connecting them with credible law firms with a proven track record for understanding the dangers of many prescription medications and the injuries associated with them. The attorneys we work with will fight for you and your rights. There is no cost to you unless your attorney recovers damages on your behalf.